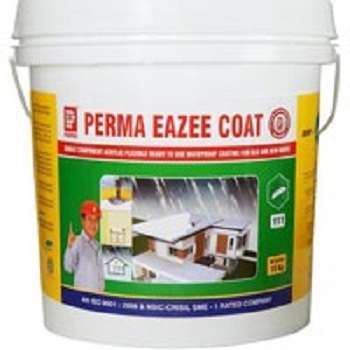 Water is an important resource to sustain on earth but as much as we need it, its power can even destroy many things. The state of water is liquid which allows it to seep from any type of cracks or surface and cause damage to the surface. There are certain types of waterproofing solutions that can be used for making any object or structure resistant to water leakage. While there are several types of waterproofing solutions in the market, one of the most effective and efficient waterproofing solutions are offered by liquid waterproofing chemicals manufacturers.
These are the liquid waterproofing solutions that' can be brushed on the surface and made them turn into resistant to water leakage. These chemicals form a flexible film on the surface, whether it is your roof, balconies, parapet walls, or even water tanks. If you are also planning to add a coating of waterproofing chemicals on your surface, you need to know a lot of things about them. This write-up covers all about them.
What Are Waterproofing Chemicals?
Waterproofing chemicals are nothing but chemicals that can be used for coating on the surface and prevent any leakage. This a white-colored liquid that can be brush applied on the surface. This chemical is effective in making the surface resistant to water leakage. The application of this liquid can be used for protecting any substance or product kept inside and prevent it from water.
Uses Of Waterproofing chemicals
The liquid waterproofing chemicals available in the markets can be used for waterproofing a large variety of cementitious surfaces. These could be anything from your house roofs, asbestos roofs, basements, chajjas, etc., to the podium slabs, parapet walls, etc., that you have outside the house, these liquid chemicals can ensure no water leaks through the surface. You can even use them for lining the water tanks to ensure zero leakage of water from the walls. These are essentially used when surfacing any area which could be exposed to water and can prevent water from passing through it.
Advantages Of Waterproofing Chemicals
There are several advantages of using waterproofing liquid chemicals for your surfaces. These are:
• These are environment-friendly and do not cause any harm to the environment.
• You need not create any solution and it can be used right out of the can.
• Usually, when you have powder waterproofing chemicals, emission takes place under solvents. With liquid waterproofing chemicals, there is no emission.
• You can even apply these chemicals on a wet surface during rains.
How To Use Waterproofing Chemicals
Using liquid waterproofing chemicals is a very easy process. Unlike the usual kinds of waterproofing chemicals that need to be dissolved in a solvent, these chemicals are very convenient in their usage. Before using the chemicals, you should stir the chemicals in the container itself. You can apply a coat of this liquid directly from the container to the wall. Wait for 4-5 hours. Now, apply another coat of this chemical on the surface.