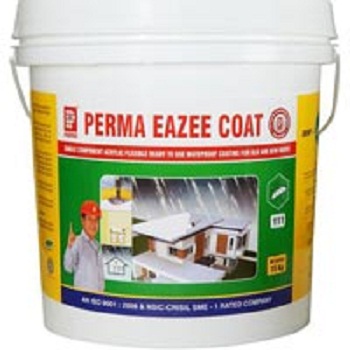 Perma Construction Aids is an ISO 9001 - 2008 certified company, manufacturing and marketing various construction chemicals of international standards, all over India and neighbouring countries under the brand name of "PERMA".
The company has been awarded ISI certification for some of its products along with a rating of 'SE-1 A' by CRISIL. The list of customers includes many prestigious government, semi-government, private institutions, builders, and contractors etc.
The product range of PERMA"' consists of polymerbased tile fixing adhesives and coloured joint fillers, range of waterproofing chemicals, integral waterproofing compounds for concrete and mortars, water repellent coatings, , structural and non structural bonding agents, repair additives for structural rehabilitation based on SBR & acrylics, range of admixtures for concrete, non shrink grouts for machine foundations, floor hardeners and sealers, epoxy floor self levellers, toppings and coatings etc.
The company plans to launch waterproof ready-to-use plaster high strength structural repair powder for rehabilitation works along with polyurethane injection grouting material and pumps for injecting polyurethane. The company feels opening of 'B' class cities for construction chemicals are the primary growth drivers for the type of PERMA's business model. This market is growing at the rate of 30 per cent per annum. The company's business network is through channel partners stationed all over India. They in turn supply material to dealers, contractors, applicators, builders etc.

The company has a mission to deliver world class product solutions, with continuous and ongoing investment in people, products and technology. The company strives to build sustainable relationships with customers, by satisfying their evolving needs, safety and lifestyle through the employees whose entrepreneurial spirit and ambition is fuelled by the culture of pride, learning, earning and fun. The products and services reflect innovation, become quality benchmarks and provide real value for money. The policies and practices are fair, transparent and constantly improving to maximise customer satisfaction and achieve market leadership.
PERMA constantly endeavours towards customer satisfaction by delivering products and services of the best value and quality. It is on the forefront of product customisation to tailor each product to customers' needs and to overcome high upfront consumer costs.
For further info visit: www.permaindia.com / www.permaindia.net
OR email to:info@permaindia.com